Monday, February 19, 2007 @ 10:33 PM
Bleach
: root of blanche, blank, bleak and black. The same root yielded words for "
black
" and "
white
" is probably because both are colorless, and both are associated with burning. dictionary.com
Time to get back on track.
No more side quests and bountou rubbish. Naruto too ((: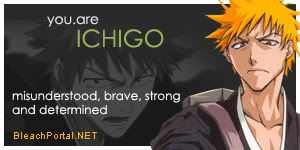 Ichigo
Take this quiz!





0Comments: