Saturday, September 12, 2009 @ 11:16 PM
Self-pity
"But human desire is to be brought under the lordship of Christ for fulfillment according to His wisdom and choosing... He gives the very best to those who leave the choice with Him... we are never warranted in feeling sorry for ourselves or being mad at God -- He loves us with an Everlasting Love; He died for us; His will is always love and, when we accept it in loving trust, it is our peace."
Elisabeth Elliot
Keep A Quiet Heart
Things often don't work out the way I selfishly want them to be, people dear to me don't turn out the way i expect them to be. God always says He knows the best. He uses circumstances to teach me and remind me that I too have fallen short of His standards and yet He has given Himself to me. God "teach me to rest quietly in your promise to supply. If i don't have it, i don't need it". Teach me and help me learn that You alone are sufficient.
Friday, August 21, 2009 @ 2:35 AM
All things were created through Him and for Him
Col 1:16b
Haven't blogged for about 5 months! Absolutely loved the hols. Am liking school more now (as compared to the beginning days of sem). Started last year of school days. MONUMENTAL. Starting thesis soon. Still trying to make friends in my fourth year. One of the big epic moments, seeing God as Providence, His invisible hand moving. Thank God for giving Himself, revealing Himself in the midst of academic toil. He is a buoy in (bracing self) stormy seas. But still thanking God it's Lit.
[The most holy men are the most excellent students of God's works, and none but the holy can rightly study them or know them. His works are great, sought out of all them that have pleasure therein, but not for themselves, but for him that made them. Your study of physics and other sciences is not worth a rush, if it be not God that you seek after in them. To see and admire, to reverence and adore, to love and delight in God, as exhibited in his works -- this is the true and only philosophy; the contrary is mere foolery, and is so called again and again by God himself. This is the sanctification of your studies, when they are devoted to God, and when He is the end, the object, and the life of them all.
Richard Baxtor.
Quoted by Voddie Baucham Jr. in Truth and the Supremacy of Christ in a Postmodern World.]
Baucham Jr says "most students walk onto campus with one thing in mind: they ask themselves 'what can i get here that will facilitate my consumption and enjoyment?' "
Oh to be found guilty and pray God help me live a campus life and see that all of my education is "served to advance Christ glory, supremacy and cause here on earth."
Wednesday, March 11, 2009 @ 12:44 AM
How could I, Lord, have ever been so blind to think that being loved by you means making much of me and not yourself? How could i put my eye to some great telescope, designed to make me glad with visions of the galaxies, and notice in the glass a dim reflection of my face and say, "Now I am happy, I am loved"? How could i stand before the setting sun, between the mountain range and the vastness of the sea, and think that everlasting joy should come from making much of me?
No, Father, love is this: At great expense you made yourself my glory and my boast. The cost was infinite by which you made yourself the Treasure of my life. You sent our Son, the blazing center of your beauty and your love. You gave him up to mockery, betrayal, thorns, the whip, the rod, the fists, the nails, the shame, and death. For what? To swallow up your wrath, and satisfy your righteousness, and bury all my sins as far as east is from the west and in the deepest sea, so that i might come home and see the galaxy. This is your love, O God, not to make much of me, but do whatever must be done so that i waken to the joy of making much of you through all eternity.
John Piper.
Don't Waste Your Life.
Wednesday, January 07, 2009 @ 1:03 AM
What do you love? and what are you learning to love? For Christian students, this movement from head to heart, from doctrine to discipleship, is what the college years are all about. In the reading and reflection upon texts, in the choice and deepening of friendships, in the listening to music and watching of films, in the decisions about semester breaks and summer vacations, in the forming of vocational visions — in and through it all, it is nothing more or less than learning to love what God loves.
Discovering What God Loves
by Steven Garber, Ph.D.
Tuesday, December 30, 2008 @ 1:37 AM
Reflections: Following the Star
Article
here
IF WE CHRISTIANS
would join the Wise Men, we must close our eyes to all that glitters before the world and look rather on the despised and foolish things, help the poor, comfort the despised, and aid the neighbor in his need.

THE MAGI
were also intellectuals, students of the stars and seekers after truth. It took the learned sages somewhat longer than the unlearned shepherds to find their way to Bethlehem, but they got there in the end.
THERE COMES
into the world one who is announced as the world's Savior and the Prince of Peace—and this leads immediately to the murder of children. It is almost as though the forces of evil, recognizing the extreme menace to their authority which the coming of Jesus portended, intensified to a new pitch of viciousness their determination to destroy the good.
THE MAGI
should be a great comfort to us. They brought all that they had to the Lord, not just their expensive presents, but their very lives.
THE THREE KINGS
had only a rumor to go by. But it moved them to make that long journey. The scribes were much better informed, much better versed. They sat and studied Scriptures like so many dons, but it did not make them move. Who had the more truth? The three kings who followed a rumor, or the scribes who remained sitting with all their knowledge?

WHERE CHILDREN
wish upon a star or wise men scan the universe in hope let your bright beams surround their dreams and guide their hesitating feet to where a miracle is born.
Saturday, November 01, 2008 @ 2:24 PM
Everlasting God by Lincoln Brewster





Have you not known? Have you not heard?
The LORD is the everlasting God,
the Creator of the ends of the earth.
He does not faint or grow weary;
His understanding is unsearchable.
He gives power to the faint,
and to him who has no might he increases strength.
Even youths shall faint and be weary,
and young men shall fall exhausted;
but they who wait for the LORD shall renew their strength;
they shall mount up with wings like eagles;
they shall run and not be weary;
they shall walk and not faint.

Isaiah 40: 28-31
Saturday, October 25, 2008 @ 4:12 PM
Completely and Totally
Depraved...
The other day, after I had resolved to be a kinder/proactive/positive influencing group member to my group mates...
...Took a bus with a groupmate. Had to pay uncle in coins. I asked him how much. He said one twenty. I immediately said oh I'm a student. He stared at me and said one twenty again. I said oh! but it's only one dollar for students right? He stared longer and then turned away, while I paid a dollar and walked to the back of the bus in a huff.
me: wah bus uncle wanted to cheat my money!
friend: how much did you pay?!
me: one dollar lah!!
friend: how much he said?
me: ONE TWENTY!! as if the twenty cents will go to his salary like that
friend: they have fixed salary what.
me: yah! he's so terrible. uh yeah... hmm.. sorry.. I didn't mean to be so angry
friend: oh don't worry! I will say the same thing! I'm like that too.
me: .......
I guess even sometimes when I don't say such things. The thoughts are harbored in the heart. How many times have I told myself that I can change for the better if I try harder? How many times have I willed myself to be more nice, less lazy, more loving, less self-centred etc because I am a good person... and I fall right back down into the rut of things. That's why bible says there is none righteous. No, not one. The thoughts of our hearts are evil, dead in trespasses and sins. We completely lost it at the fall and we cannot turn to God ourselves. But He so graciously wills for us to be right with Him, to look to Him and be able to love, change and grow.
good food for thought for my "evil" essay due the following week...
Saturday, October 04, 2008 @ 10:29 PM
Anybody home?
We were on our way home in the car after dinner at the yck japanese village place. I was asking my bro if he has heard of IL DIVO before but he hasnt.
-in chinese-
Mom: You dunno Il Tibo meh??
Bro: No.
Dad: Il Tibo means anybody home.
Bro and Me: Huhh? anybody home?
Mom: Il Tibo is hokkien you all dunno ah?
Dad: Il3 Ti3 Bo2! Il is You3, Ti is Zai4, Bo is Ma1?
Me: I'M NOT SPEAKING HOKKIEN!!!
Mom: Then what are you speaking?
Me: Italian!
Mom and Dad: Il Tibo????
Me: it's a...name..they sing song de
Mom and Dad: ohhhhh why so funny one..
*faints* if it's spanish, the V sound is pronounced as the B sound.. like 'volar' is pronounced as 'bolar'.
Thursday, September 25, 2008 @ 6:27 PM
God is love
Yesterday had an interesting conversation. I was trying to do my essay on: How does the technique of self-reflexivity inform the concept of Love (in a particular novel)
context: the author says it's so hard to talk about love, the moment we say it, we don't really mean it, because we can never get the whole meaning of love, we don't know the entire meaning of love, so why even speak about it? For most of her novel, she just went ahead to talk abt love ANYWAY, after spending so long to say that love is indescribable.
Like songs we sing abt God, we say He's indescribable but we describe Him ANYWAY!
So I guess, God is so wonderful that even if we can't describe him fully, we would still try to describe Him! We can try to describe Him (or any other seemingly vague but real ideas/emotions) to a certain limit. But it doesn't mean that it is less of the thing. God isn't less of Himself if we fail to describe him fully.
But one confusion in the novel, and we must take notice of is that God is love, but love is not God. 1 John 4:8 says: Anyone who does not love does not know God, because God is love. I suppose I can also say that anyone who loves doesn't necessarily know God because Love is not God.
I think our inability to know him fully shouldn't deter us from knowing him at all. People can get so crippled about not being able to understand everything. We know that God gives us the knowledge and wisdom to comprehend Him. We can take heart that God will reveal himself to us for all eternity!
Rev Tong was replying some indignant student who commented that being in Heaven would be boring, because there's nothing to do for all eternity and Rev Tong gave this marvelous analogy that I'm so thankful for:
Imagine you are in a relationship with this wonderful woman. She is so amazing and today you found out a new quality, an attribute about her that blows you away. You worship her. Tomorrow, you find out another amazing quality that you never knew before! And so you worship her some more. The day after, you find out something new that utterly amazes you more!
In heaven, it will be like this for all eternity. We will bow down, worship and cry out together with the angels: Holy Holy Holy is the Lord God Almighty who was and is and is to come!
Tong: "SO you tell me, how bored are you going to get?"
Tuesday, September 23, 2008 @ 1:02 PM
Wedding Delusions
Not Verbatim
stef: i want to decor my function room, with cloths and flowers
stef: ...and flower petals
me: lining the floor along the red carpet...
stef: no! on the tables!
me: ...then we'll sing Happy Birthday when stef walks in..
kel: YA! she can walk in together with JY!
stef: !!!
Thursday, September 18, 2008 @ 9:45 PM
Love the Lord
my God
with all my
heart,
with all my
soul,
with all my
mind
and with all my
strength
Wednesday, September 17, 2008 @ 11:40 PM
Il Divo's Isabel!
It has abit cliched english lyrics but rendered so beautifully in Spanish!
Isabel
If you go away
Your God will get angry
Don't leave this love
Let it die like this
I'll cry
You'll cry
Suffering in solitude
Come back to me and I'll make you
Happy, Isabel
I like the first verse!
Volar
Caer
Al fondo del dolor
Sonar
Perder
Imperios de ilusion
Hoy no tengo nada
Si no estas
Mi corazon se apaga
To Rise to fly
To Fall
To the depths of pain
To Dream
To Lose
Emperiors of illusion
I've nothing today
If you're not here
My heart stops

Sunday, August 17, 2008 @ 10:31 PM
T w e n t y o n e
Psalm 77:5 I consider the days of old,
the years long ago.
Before I get swarmed by busyness and thinking I'm busy, I am going to update about my birthday and reflection on some twentyone things to be so thankful to God for x)
one
Firstly, Praise God that I'm
twenty-one
! like finally! Never in my entire 5 yr old, 10 yr old, 15 yr old, 20 yr old brain, had I imagined I'd be old enough to say, ok I'm old enough I'd like to stop growing now. But life for Christ goes on la. Admittedly, maturing in years has NEVER been so infuriatingly
slow
, sigh but God sets the pace and there's still a long way to grow
two
For the absolutely awesome birthday surprises I've had! In vanity (and irresoluteness), I've had some four awesome gatherings in total plus some pre and post gatherings...*mumble mumble*. Thanks to awesome friends who made me feel important on that special day :)
Thank God for the PARTies :) HAHA You've outdone yourselves in the 1st volunteer ran event. It was so absolutely
SWEET BEYOND WORDS
with a 6yrold's party decor, acoustic performances for the purposes of sharing to my parents and it has so much
love
. The preparations! The heartfelt messages! The video brimming with memories! the ministry involvements, mundane activities and sharing of lives! I'm beyond happy.
three
For that crazy surprise on the day itself at macdonalds. that niggled my nerves. praying about problems then to find the rest of you grinning inanely at me after AMEN! then worried why I wasn't reacting like it's my birthday. But in retrospect like after i got off the car, it was remarkably heartwarming. That's two surprises, two years in a row and I'm still unsuspecting. cant figure out if it was out of cheekiness or fondness, or both? BUT let me go worry about that and how terrible I'm going to mess you guys up when it's your turns. ha!
four
For my secondary sch buddies. my delightfully mad friends. I think the highlights of teenage life was doing stupid things with you all. I regret that we don't spend as much time as we'd like together, and I know you all "will always be a part of me". Thanks for the botanic garden picnic. HOW DID YOU EVER KNOW I'D RATHER A PICNIC WITH CANDLES (tho it was hardly romantic I couldnt see anything but HUGELY HILARIOUS PLAYING GAMES BLINDLY) THAN SOME CANDLELIGHT DINNER/BBQ/HUGE PARTY WITH 100 PEOPLE. I guess we're all reading minds now :)
five
For that really FUN pre-birthday treat at sushi tei and trigger happy moments at Fullerton, down clarke quay, in photobooths, on statues/lampposts! and some random toilets with pretty big mirrors. The pictures and tags really made my day! You guys make tedious toilet trips an
adventure
haa.
six
OH wonderful trip to Canberra Secondary School again! On the day itself. Couldn't have had a more refreshing idea. Thanks to peng's lunch appnt with Mrs Phang and Mrs Tay!
dear ol Canberra
. You've changed so much and changed so little (thankfully!) Thank God for free day and for great amazing teachers who inspired us in some way (like use potatoes to do algebra/kong-garithms) and gave us endless opportunities to be who we thought we were - cool exciting people. And I miss us the way we were - happy, silly and unglam.
seven
CHURCHIES! Ex sunday schoolmateys! I'm glad we thai expressed one fine sunday. It's been a mil years since we ate properly, gather together to get any where together... It was a nice warm meal! I thank God for you bunch of bananas because of the love we have because of HIS passion, for the common bond in the body of Christ and that I will STILL see you all most in the years ahead. It's the ultimate heartwarming truth to know that WE WILL BE SEEING ONE ANOTHER IN GLORIOUS HEAVEN, in the presence of the one who created us to have that awesome relationship with HIM and others.
eight
Thank God for bible trail, for the study of the book of ACTS. exciting stuff the bible is! but not always enthusiastic i am. For the company of little girls about the same age as I was like 7 to 8 years ago :) Pray that God grow them more and more to be godly women who follow the ways of God and teach them to younger women in time to come!
nine
FOR CELL GROUPIES! You people overlap everywhere but that's how you've all been categorised on the left side. We meet to study God's word that's so so so important and we meet to encourage and edify. It's so comforting to be accountable (on some level) to one another :) THANK GOD FOR
DELIA
, precious bold and courageous leader who still trudges on amidst occasional lacklustre cg members like me ;)
ten
Back to
parts
! We're partying pretty often now. thanking God profusely for the privilege to lead and serve in the band. learning to tremble and fear God instead of my circumstances! Thank Him that garage prc is on the way in december. Parts is functioning on God's grace alone through one staff and many volunteers. That's some stuff to be pretty trembly about but HE IS FAITHFUL and has been so good in providing manpower, ideas, and somehow things move along even when the servants are feeling abject moments of despair and worry ourselves senseless. it's inexplicable how things move along seamlessly - it's not by chance but by design!
eleven
Home matters now. it's still the four of us THANK GOD. It's on days like birthdays that celebration and the act of celebrating acts it's perfunctory role of gelling people and reminding us the reasons why we still get together. I thank God for a proper loving home. It's so hard to see how possibly the home is loving until i shove away the grievances and misgivings. God provides through the kinds of provision i get at home- shelter, parental guidance! and this is the ONE place that he molds me the mostest. in ALL WAYS. My personality, godly character, sociability/communication, my DISC, my love languages etc. And it's one place I sometimes wish I don't have to be but i am almost ALWAYS at. May God have mercy on me and teach me how to love these important people. For my parents who try to give me all they can give in this lifetime :) they the awesomest cos they're my mom and dad. and my bro because he is my bro, he's pretty awesome too cos he has me as his sister ha.
twelve
My mac that is still working. my pretty white apple
macbook
that makes it hard for me to live with a pc.
thirteen
My own bed. I've just had a sleepover and it's worrying having to share a bed with someone. because because beds have springs
fourteen
My school and my course. ahhh! I dont know what to do about life after uni please refrain from asking me unless you think I'm pretending to be thinking about it and i'm not. am trying to make the best out of it. i still like reading storybooks. YAY i've got two years left. but i.e two years left to think what to do for the rest of my working years. UNFAIR
fifteen
My uni friends who teach me how to use the ntu websites, get me around campus, tells me when we get important emails and forgives me for treating them like utility :pp and for giving me discounts for dresses during bazaars! Also for the small bunch of christians i meet often for meals. you guys help so much to remind me of our purpose in school - to be salt and light
sixteen
I get electives that i want almost every sem!!! again not by chance!
seventeen
I'm overloaded this sem with modules :(((((((( but it's an opportunity to see how well i'll be managing my time
eighteen
Thank God for little children who make me smile just by being themselves. like Meredith :) miss her so much! For babies in church like aly, cait, dan and other random smallies that run and crawl around.
nineteen
Tung family for letting me crash their homes in the past to play with Mere. one more Tung member's on the way to be played with haha!
twenty
haha for the silver medal singapore won during table tennis! yay spore you rock! you made me watch tv again :D
twentyone
thank you God for
Jesus Christ
who died for me and my sins. You're MY SUPERHERO and SAVIOR. MY LORD AND MASTER. MY KING AND RULER.
Pray that my life will be for YOUR GLORY
. We fade like flowers but Your word remains forever.

Psalm 90:4 For a thousand years in your sight
are but as yesterday when it is past,
or as, a watch in the night.
Sunday, July 13, 2008 @ 12:20 AM
Desert Song
Hillsong
Emo song! and such an emotional sharing behind it. Can identify with how many times I don't feel like singing to God, but yet He is still God! He who provides and gave His son Jesus who gave his life so that we might have eternal life and THAT is a reason to sing and to worship.
This is my prayer in the desert
When all that's within me feels dry
This is my prayer in my hunger and need
My God is the God who provides
VERSE 2
This is my prayer in the fire
In weakness or trial or pain
There is a faith proved of more worth than gold
So refine me Lord through the flame
CHORUS
I will bring praise, I will bring praise
No weapon formed against me shall remain
I will rejoice, I will declare
God is my victory and He is here
VERSE 3
This is my prayer in the battle
When triumph is still on its way
I am a conqueror and co-heir with Christ
So firm on His promise I'll stand
BRIDGE
All of my life
In every season
You are still God
I have a reason to sing
I have a reason to worship
VERSE 4
This is my prayer in the harvest
When favour and providence flow
I know I'm filled to be emptied again
The seed I've received I will sow.
Tuesday, July 01, 2008 @ 8:10 PM
It's just a feeling and no one knows yet
The Tungs came back! Meredith is crazier and more lovable than ever. It's wonderful to be welcomed and invited into godly homes and be involved in the things families (besides our own) do. Like taking pictures of each other above!
Today had some musings on trying to love people.
Most of the time, it's hard to invest in people's lives whom I hardly know. Like being in charge of welfare in church. HOW is it possible to care when I hardly know the person. So I concluded, after many failed attempts of getting cakes that I'm very positively an un-welfarish person. But over time there came people whom I became aware that I was concerned for. Naturally! poured out time and effort being available and tried my hardest to love and invest time in these relationships. Sadly, they were and still are, feeble attempts. Because I have understood so poorly the love that God has shown me. Only with His grace and in view of His mercy, am I able to truly love others. To treat older men as fathers, older women as mothers, younger men as brothers and younger women as sisters; with respect, esteem, affection and propriety.
I'm so guilty of being unloving. I'm ugly and I feel it. It's true that I'm so not a welfare person, but God calls us to take the welfare of others more important than self, and it's so awesome that He gives us, poor broken sinful people, the capacity to love and still forgive us for failed attempts. That's mercy! He filled us with His abundant and overflowing love and showing us love through what JC did for us all on the cross, that is His amazing grace!

It started out as a feeling
Which then grew into a hope
Which then turned into a quiet thought
Which then turned into a quiet word
regina spektor
'the call'
Think these lyrics would mean much more if the sequence is changed from back to front. I don't know what it is. But if it's God's love, I pray we all want to read, think about, hope and feel it!
Friday, June 20, 2008 @ 9:34 AM
This Is Home




SwitchFoot



I've got my memories
They're always
Inside of me
But I can't go back
Back to how it was
I believe now
I've seen too much
But I can't go back
Back to how it was
Created for a place
I've never known

This is home
Now I'm finally
Where I belong
Where I belong
Yeah, this is home
I've been searching
For a place of my own
Now I've found it
Maybe this is home
Yeah, this is home

Belief over misery
I've seen the enemy
And I won't go back
Back to how it was
And I got my heart
Set on
What happens next
I got my eyes wide
It's not over yet
We are miracles
And we're not alone

And now after all
My searching
After all my questions
I'm gonna call it home
I got a brand new mindset
I can finally see
The sunset
I'm gonna call it home


Now I know
Yeah, this is home
I've come too far
Now I won't go back
This is home
Friday, June 13, 2008 @ 4:17 PM
you get more than what you bargained for
For my current job, I do six hrs daily, get lunch/dinner appointments, receive free jokes via sms almost hourly, have a subscription to dial/text-a-friend service offered by nice friends and just got a pay increment. It's a pretty good packaged deal. if I could just continue bearing the bareness of my table, the lack of internet access and a pantry. Plus ill-mannered rude tactless people. Horrid people who don't like to talk to you- oh how wretched is the life of a telemarketer.
But really, I thank God for friends who offered themselves in kind service. I've had hot dates for the past two weeks everyday except for one day! Brought cup noodles and found out to my horror I'm not allowed access to hot water. Welfare is lamentable but shall overlook it for the sake of a colleague who feeds me chocolate once in a while. The desert of an office is surrounded by oasis of shopping malls and food places, so am somewhat appeased. Oh yeah, there is a pretty hotel lookalike toilet with a thousand mirrors which I go a mil times a day. It has nice lightings. The auntie cleans it every three hours and it really sparkles.
Boss says I've been doing well. encouragement is good, it gives a bit more incentive to work i guess. I find myself thinking in the middle of dreariness about how doing any work can glorify God and it prompts me to pray for strength and indeed more diligence as I do work that isn't all that fun.
* Prithee offer thyself and thy time for lunch appointments if thou dost take pity on this poor ol soul :p
Wednesday, May 21, 2008 @ 8:51 PM
Paint Me In Your Sunshine
Well mayest thou then work on indocile hearts;
By small successes, disappointments small;
By nature, weather, failure, or sore fall;
By shame, anxiety, bitterness, and smarts;
By loneliness, by weary loss of zest.
The rags, the husks, the swine, the hunger quest,
Drive home the wanderer to the Father's breast.
-George Macdonald
Monday, May 19, 2008 @ 10:02 PM
C is for COCOCRUNCH!
This is how Meredith looks like eating on skype. Cococrunch monster!
Talked to her a few times on skype. We all take turns to get to talk to the little girl. She decides who she wants to talk to. When she wants to hang up, she says "hang on okay? Hang on" when she means she's going to hang up. Because I thought she really wanted me to hang ON, so got puzzled when she hung up on me. Then her mommy got her to call me back and she said goodbye properly. Now she tells me, "bye! I'm going to press the red button (the hang up button)" and thanked me for talking to her about whatever we've been talking about. "I will talk to you on msn okay?" whoa.
Saturday, May 17, 2008 @ 1:49 AM
Latest Noticeable Hang Up
I've been listening to my podful of songs for months now. Plus or minus a few songs once in a while, they pretty much stay the same. Bic Runga's Sway has got to be the oldest song, but I've not figured out why I still like it. The entire playlist runs on shuffle mode, it shuffles more than it plays songs and I find myself, curiously, searching the particular ones among the repetitive, boring songs that nonetheless still stay in my pod. Perhaps, afraid I'll need them once I take them away.
They're like my books, photos or scrap pieces of cards that people scribble stuff on to me, I can't throw away. It becomes a pain, this incessant, compulsive need to store memories, clogging up my cupboards, as well as my itunes. I have junk music in my laptop that is taking up space, with stuff from ago that I no longer listen to.
My room and stuff are piling up (partially or more due to laziness). Henceforth, cleaning shall be in progress, for the lack of space and discipline to create order, plus persuasion skills to show order within disorder. I will be LESS of a garang guni man of sentimentalities and cut my own OCD with nostalgia off, cold turkey.
A friend said to me, why take pictures, when it is certain happy moments you capture. And I suppose also, why listen to songs to evoke emotions, or echo the thoughts you want to feel and think. But still, I like my pictures, my not so happening from everywhere music, my moldy children storybooks, my heaps of autograph books from old school days. The special moments, the right kind of emotions, thoughts that have to be remembered, felt or mused upon. Hopefully, more selective.
Sunday, May 11, 2008 @ 7:00 PM
Foodie pictures!
HmmmMMMmmm!
The Conrad Centennial Singapore's wedding buffet lunch! Was cousin's wedding. I had sashimi at last. Almost weeped...almost :D


Buffets are really wasted on me, wished I could dapao!! Look at my sparsely filled plate!


Chocolate mousse with biscuit.


Cakes! Cheesecake, mint cake, walnut brownie cake!


Fruits and more cake! The minty cake was superb.


Went to East Coast Lagoon last night to eat nice Singapore food :) Thanks to car drivers Darren and Aroon we could be there!


We ordered satay beehoon, otahs, satays, chicken wings, orh lua, sugar cane and rojak


In the afternoon, Stef made me cookies and creme milkshake at her place. It was SO GOOD SO GOOD. Thanks Stef! I will start thinking of diabetes another time.
Friday, May 09, 2008 @ 7:54 PM
Wheels on the bus go round and round
Back from malacca! It was a short, TIRING mission trip but nevertheless a meaningful one. Best parts of the trip were the time with the students and eating! Teaching and talking to them were challenging. Oh was made to do devotion with staff. THAT was freaky too. It was a small team, got a bit trying I felt at times, but it was still wonderful serving together.
random things i rmbed about the kids:
-there was this boy at Bukit Beruang who promptly started tearing after I said to him: "Bye! hope to see you again, although maybe I wont!" but he wasn't tearing because of me. He said: "last night I had a dream about my grandma dying." So heart-wrenching! Poor boy, he then went out of the class, drying his tears.
-met this other boy at K Seng who resembled a smaller version of that teary boy, he kept telling me he wants to throw watermelons. (cos bowling in our olympics uses watermelon instead of the bowling ball)
-my malay failed me. this malay girl at MGS tried her hardest to speak to me in english, grabbed her shy friend to translate but the shy friend ran away. so i just tried to guess what she was trying to say, her furious nodding, biting of lips, frowning, shaking of her head was hilarious and when i finally got it she was so happy!
-Lydia and I were given a flower each by two other girls there. One purple and one pink flower. We got all gushy over them. Oh so sweet! oh thank you! The flowers were probably mothers day gifts on sale at school.
cool indian flower/duster thing that we taught them how to make
we caught the sunsetting one day. it was pretty! check out my facebook album for other pics!
Monday, April 28, 2008 @ 2:50 PM
Tubing without the Tube.
Always puzzled why people spend hours on youtube. Then, I was introduced to some cool vids lately.
Thanks to Tansey for link. Watch this mtv clip for beautiful flamenco dancing! and pretty women swaying to Iron and Wine's Boy with a Coin.
I replayed it couple of times. Awesome hand and footwork that is strong and elegant. So much sexier than salsa ;)
Another amazing clip Amos sent. KT Tunstall looping her own music with back up vocals and percussion with some cool pedal thing. Get a whole band sound with just yourself.
enjoy!
Monday, April 14, 2008 @ 11:48 PM
exams start this wed.
read many things today, don't know if they went in but some made me laugh
my marketing notes on culture. how kids are treated as one of the adults in western society and kids in chinese society are surrounded and given alot of attention.
I think of how we like to ask lame brained questions like: your dress is so pretty who bought it for you? the 2 yr old toddler answers "Mommy" or somebody's auntie or mother, we look astonished and say she remembers! I remember sulian saying to that, "of cos she does lah".
then one day in church someone told me when she asked caitlin "where is caitlin?" caitlin pointed to herself. then the girl said proudly to me, "so clever right?!" haa
this is meredith trying to tie hair for me. she likes to do many adult things. like teach me nursery rhymes and tell me to repeat after her. "say Chi-na!"
Thursday, April 10, 2008 @ 12:40 AM
I'm hooked onto Chapman's Cinderella. Watched until teary. The silhouette dancing is so pretty. The second vid explains the background to the song. Chapman wrote this song for his youngest daughters and one of his older daughters inspired this song, who happens to have the same name and same age as me! LOVE IT. His description of his younger daughters at ages 3 and 4 reminded me so much of Meredith. She's her mommy and papa's pride and joy.
Cinderella *
Steven Curtis Chapman
She spins and she sways
To whatever song plays
Without a care in the world
And I'm sitting here wearing
The weight of the world on my shoulders
It's been a long day
And there's still work to do
She's pulling at me
Saying "Dad, I need you
There's a ball at the castle
And I've been invited
And I need to practice my dancing
Oh, please, Daddy, please?"
So I will dance with Cinderella
While she is here in my arms
'Cause I know something the prince never knew
Oh, I will dance with Cinderella
I don't want to miss even one song
'Cause all too soon the clock will strike midnight
And she'll be gone...
She says he's a nice guy and I'd be impressed
She wants to know if I approve of the dress
She says, "Dad, the prom is just one week away
And I need to practice my dancing
Oh, please, Daddy, please?"
So I will dance with Cinderella
While she is here in my arms
'Cause I know something the prince never knew
Oh, I will dance with Cinderella
I don't want to miss even one song
'Cause all too soon the clock will strike midnight
And she'll be gone
She will be gone
Well, she came home today with a ring on her hand
Just glowing and telling us all they had planned
She says, "Dad, the wedding's still six months away
But I need to practice my dancing
Oh, please, Daddy, please?"
So I will dance with Cinderella
While she is here in my arms
'Cause I know something the prince never knew
Oh, I will dance with Cinderella
I don't want to miss even one song
'Cause all too soon the clock will strike midnight
And she'll be gone
Monday, March 31, 2008 @ 6:45 PM
"And she came in from the little room." Helium balloons tickling with their strings and the decorations stuck themselves. Party food like scones and cakes, pouring tea with a teapot into teacups. Standing in cold waters; those cut flowers, their heads flow into eddying chaos. "All flesh is like grass and all its glory like the flower of grass. The grass withers and the flower falls."

She wants to have a tea party

.
Saturday, March 22, 2008 @ 4:28 PM
This is hilarious. Got it off Kelly's blog.
GREAT SELF AMUSEMENT FOR BORED PEOPLE
Some other slogans i got:
Behold The Power Of Emily
*Grand epic music!*
Don't Be Vague. Ask For Emily
Get Back Your 'ooo' With Emily
ooooh!
I Like The Emily In You
Oh yeahh
Because Emily Is Complicated Enough
Emily Take Me Away!
fly me to the moooon
I'll Walk A Mile For An Emily
Aww.
Uh-oh, Better Get Emily.
The advertisements:
Choosy Mothers Choose Emily!
Other mothers choose UIC!
I Scream, You Scream, We all Scream for Emily!
Emily With The Less Fattening Centres.
It could be Emily.
She's Maybelline!
8 Out of 10 owners who Expressed a Preference Said Their Cats Preferred Emily
Top Breeders Recommend Emily
Then the totally nonsensical ones:
We Build Emily
Emily. It's Everywhere You Wanna Be!
Full of Eastern Emily
???
What's in Your Emily?
eh
Plink, Plink, Emily.
plonk?
No Emily, No Comment
Silly Rabbit, Emily is for Kids
Yeah! LOL.
Friday, March 21, 2008 @ 7:12 PM
Remembering good friday..
It's a cloudy gray day today again! Reminds me almost of lousy days in hall.
But one thing about this year's good friday. Looking at the cross again, it puts me to shame! Then the overflowing thanksgiving that comes from the deeper appreciation of God my Provider and my Savior, Jesus Christ. That's more than enough to chase away the gray downcast sky in my heart.
@ 6:33 PM
CHEAP FUN
Had cookies and cream milkshake with fake jukeboxes at Billy bombers after lunch at JurongPoint ytd. Awesome stuff, almost like icecream.
Nearly killed ourselves sitting in for Stef's IT programming lecture at NUS.
Went Vivo shopping for birthdays. Saw this 3 cool changing rooms, one with a pole dancing platform (with wig for whoever's feeling kinkky while trying on lingerie) and this other turquoise room (which Val liked very much) had the most gorgeous lights that look like a bouquet of roses.
Chinatown. We had really good aglio olio at Agliolio, thanks to Kel's recommendation. I was happy eating it and I highly recommend this place too! I had MILD(spiciness) Sotong aglio olio and I still have garlic breath.
Then went to listen to the "one man show" at Harry's, the one at Esplanade. Met lotsa people!
When you go out, you go all out. I'm a little bummed. I think cos my wallet is emptied!
Monday, March 17, 2008 @ 12:05 AM
Once again I look upon the cross where You died
I'm humbled by Your mercy and I'm broken inside
Once again I thank You
Once again I pour out my life
Tuesday, March 11, 2008 @ 12:13 AM
Down the Via Dolorosa in Jerusalem that day
The soldiers tried to clear the narrow street
But the crowd pressed in to see
The Man condemned to die on Calvary

He was bleeding from a beating, there were stripes upon His back
And He wore a crown of thorns upon His head
And He bore with every step
The scorn of those who cried out for His death

Down the Via Dolorosa called the way of suffering
Like a lamb came the Messiah, Christ the King,
But He chose to walk that road out of
His love for you and me.
Down the Via Dolorosa, all the way to Calvary.

Por la Via Dolorosa, triste dia en Jerusalem
Los saldados le abrian paso a Jesus
Mas la gente se acercaba
Para ver al que llevaba aquella cruz

Por la Via Dolorosa, que es la via del dolor
Como oveja vino Cristo, Rey, Senor
Y fue El quien quiso ir por su amor por ti y por mi
Por la Via Dolorosa al Calvario y a morir

The blood that would cleanse the souls of all men
Made its way through the heart of Jerusalem.

Down the Via Dolorosa called the way of suffering
Like a lamb came the Messiah, Christ the King
But He chose to walk that road out of His love for you and me
Down the Via Dolorosa, all the way to Calvary.

-sandi patti
via dolorosa (way of suffering)
Monday, March 10, 2008 @ 2:16 AM
Do you know where your heart is?
Do you think you can find it?
Or did you trade it for something
Somewhere better just to have it?
Do you know where your love is?
Do you think that you lost it?
You felt it so strong, but
Nothing's turned out how you wanted
Well, bless my soul
You're a lonely soul
Cause you won't let go
Of anything you hold
Well, all I need
Is the air I breathe
And a place to rest
My head
-onerepublic
say (all i need)
Thursday, March 06, 2008 @ 12:20 PM
Lorenzo's Oil
Watched this awesome movie ytd during bio in pop media class. "Lorenzo's Oil is a 1992 drama film directed by George Miller. It is based on the TRUE story of Augusto and Michaela Odone, two parents in a relentless search for a cure for their son Lorenzo's adrenoleukodystrophy (ALD)."
It made me think of how deep a parent's love for their child can be! that non medical literate parents study biology and medicine, give up so much money, time, and themselves for their son. To think that human parents would go so far for their child! What more God who sent his son down to die for us! His love is so much so much more! Was quite upset after several events which included a mtg ytd. seriously sleep deprived, anxious over looming datelines.. A change in my perspective on how I was looking at my life and living it was called for. Was living my own agenda thats why I was worrying. But I was to live God's purposes and remember His love for me. How gentle and timely is God's reminder!
[edited]
Ahh and the italian accent was so sexy. Jo and I were gushing (only a bit) about how articulate the daddy was. Brilliant acting. First it was Ethan Hawke cos he was eyecandy *distracted* ...Nick Nolte is 67 this year and it'll be wrong to gush in the same way about him.
Back to homework. *sighhh*
All the drama during the writing of papers. Lethargy. Dizziness. Allergy. Madness. Liquidation of brain matter (vmuch like ALD). Asphyxiation. Death.

when you figure out love is all that matters after all, it sure makes everything else seem so small
Tuesday, March 04, 2008 @ 1:38 PM
试看用华语来blog
。
母语好久没用了,
不想以后有许多有所难堪的感触,
可惜,失望,后悔,
以及失去使用发表能力。那时侯来不及了。
昨天, 到了学校才发现早晨的课取消了!
我一大侵早九点中得等到下午两点半。
四小时在图书馆玩电脑, fbing, msning,
做功课。nearly fainted but 喜欢突然有多余时间。
也不是说浪费了时间啦,
只想那几个钟头多睡一点也爽。
从今天起会好好努力check email.
可是不是第一次咯!老师在上课一个钟头前才给email。。
咳, 不行啦。。
哎呀我的母语本来就不行的。
心血来潮就到此为止。
Tuesday, February 26, 2008 @ 4:36 PM
yay hooray for mos milkshake and BK sundae pie. they can make your day. plus ben and jerry free cone day is
round the corner.
like on APRIL. 29. The only two men who understand women are Ben and Jerry. i need my daily fix. feeling rubbishy when it's time to do papers and presentations. keeping the mood takes all the energy.
Joke of the wk:
Why do cows dance?
To make milkshake.
haha
[edited at 1am]
I finished the plot for AJ story! Hallelujah! just intensive major ops now: editing.
watched some postmod stuff on youtube. pomo is the new indie. thought about 21st bday cos of hype about planning early! stef volunteered herself and kel to plan. yaynesssss. just listened to some composed songs by people! inspired. wanna learn guit. so many things. visit jaclyn n joash. play wii with val again. eat icecream. lots. plan bday gig haha. tmr get to see ernsee! felt rubbished having to go mktg mtg tmr and how i saw n prepped the wrong tutorial qn! have this strange urge to detail thoughts today. hm. ok i'm going to faint infront of com. slp!
@ 12:54 AM
'02


our song
Our song is that giggly girl talk,
Sneakin' out late, getting supper
When we're on the phone and you talk real soft
Cause it's late and your papa picks up
Our song is the way you cry
The first day of school "girl! do something about that hair!"
And when I got home before I said Amen
Asking God if He could play it again

I've heard every album, listened to the radio
Waited for something to come along
That was as good as our song...



adapted from Taylor Swift's Our Song
Sunday, February 24, 2008 @ 1:44 PM
Cruelest thing to not have loved at all, to have never been exasperated by affection, to be in denial of the urge to protect and be protected, to possess no willingness to be broken and be gathered up again.
Those wretched stabbings into the dark! Then bled, died, once and for all restored to complete mirrors, shards becoming whole.
Wednesday, February 20, 2008 @ 1:29 AM
Started on Pride and Prejudice the book first time! Still think it's one of the most wonderful love story. Eliza Bennett is so cool I think if you're a normal girl, you'll want to be like her- fun, quick with witticisms, opinionated and yet feminine. Guess what's different about her is cos she's decidedly willful against things she disagree with but still submissive when she has to. Oh and for all that Mr Darcy is worth- tall dark handsome and brooding, plus all the good and noble stuff he does later, I can't decide if I'd like him. Something about him not quite right.
I can't stand Mr Bennett. If he cant tolerate Mrs Bennett's stupid comments and superficiality WHY did he marry her and then call her and his other girls SILLY and other mean names, since he's into intellectual talks and sensibilities. Really doesn't make sense.
Today we sang this love song Realize by Colbie Caillet and this break up song Over You by Chris Daughtry. I like the songs. Amused the first song is about desiring relationship and then the other one about wanting to forget about relationship. We are such troubled people.
Anybody wanna go for Garage this friday 7pm! Norman says I only talk to the jc guys when I'm evangelising. but no leh.. it was a facebook invite..
On a scary and side note. I (tgt with the manager) made donut.fac deal with 144 worth of unsold donuts ytd due to miscom. I would just faint if I had to pay for them.
Sunday, February 10, 2008 @ 11:54 PM
Bishop Solomon's article "Notes on spiritual short cuts" caught my eye in the Methodist Message today and it made me think of a passage from Ecclesiastes. Think it's a good reminder for me, as I find myself rushing about doing things, putting things off, or doing things halfheartedly, regretting stuff, not thinking about stuff...forgetting that all things happen for a reason. There are things that have to be done, to keep doing and to wait. Indeed for everything there is a season, a time for every matter under heaven!

Eccl. 3:1
For everything there is a season, and a time for every matter under heaven:

2 a time to be born, and a time to die;
a time to plant, and a time to pluck up what is planted;

3 a time to kill, and a time to heal;
a time to break down, and a time to build up;

4 a time to weep, and a time to laugh;
a time to mourn, and a time to dance;

5 a time to cast away stones, and a time to gather stones together;
a time to embrace, and a time to refrain from embracing;

6 a time to seek, and a time to lose;
a time to keep, and a time to cast away;

7 a time to tear, and a time to sew;
a time to keep silence, and a time to speak;

8 a time to love, and a time to hate;
a time for war, and a time for peace.
How amazing is it that "in the Kingdom, real growth takes time. The King has all the time in the world and He takes delight in seeing things grow and mature in the right season... bringing them to maturity and perfection through His own process of nurture. It takes years of training (and suffering) for them to look like the King's son. That is the King's ultimate purpose."
@ 1:52 PM
Read Italo Calvino's
The Memoirs of Casanova
. On Love and variations on Love. Did this reading together with Samuel Beckett's
First Love
.
Responses are the usual disillusionment with perfect and commercialized love. Gives affirmation for further indulgence in cynicism of love: its inability to be constant. The variations show love's experimental nature [and includes Beckett's controversial anti-aesthetic love (true love that is the fascination of the ugly and grotesque- i think this is really mad. But doesn't quite apply because we pander more to heartshapes on vday, even fascinations with nubile girls, than excrement and other sick stuff. Not like gross is better than frivolity or lust but scary how these can be mistaken for love]
on
Memoirs of Casanova
. his fickleness is pitifully laughable(if we succeed in distancing ourselves). In his effort to transform variedly for lovers, his love invariably overlaps and becomes an inheritance of past lovers. Eg. Liking one who reminds him of another. The woman's previous lovers form her expressions of love and he turns into one of her measures for future lovers, much to his jealousy. So first love for the absolute grounding position?
I think so. It is the one love that so completely enamors. Don't think it's possible to completely defamiliarize from that notion of love which had been made known to us. However said, disappointment with love sadly does create the urge to conceal congeal confuse itself.
Yet there's a standard that is so sure and real. Lam. 3:22 Because of the Lord's great love we are not consumed, for his compassions never fail. This is perhaps my confidence and small amount of comfort. For another, discontentment might attest to this perfect standard...
Monday, February 04, 2008 @ 9:33 AM
I have
every reason in the world
just my grades to think abt when I write a postmodern short story instead of the essay. the research paper and author study options are making me
bored out of my mind
. surreptitious sneaky prof. baiting us to our deaths (: Notice how the plotline of committing suicide runs thru many pomo stories. Like Yellow Wallpaper where the lines run off and commit suicide. ngahh. cliche gets tiresome.
Just wrote a quick abstract in a hour, I don't know how to end it yet.
Story of Amelia Jane.
Can rule out making her come out of her pretty story and do something to me the author. that would be like plagiarising. I want to make her realize shes a painting within a painting within a painting on the wall. Thot it'll be fun to make her go through layers of painting till shes completely insane and goes quite mad trying to commit the uncommitable suicide, slashing her paper frock, ruining her perfect unruinable house with an axe made of paper. Amazing how I tried to make her like American Mcgee's Alice and she's quite adamant to not resemble one bit like her
edit. (of cos finding the narrator who hangs her on the wall and the narrator finding out she's also in a painting, told by another narrator who happens to be hanging the first narrator on her wall and it goes on,
infinitus
. lotsa self reflexivity, time and space warp, interruptions to common sense and a recognition of a death that goes round and round, deeper and deeper, wider and wider in pictures. too simple?)
Saturday, February 02, 2008 @ 2:19 PM
Raymond and Ginny's Wedding
rehearsal


@ 1:48 PM
Kelly's 21st
Brownie Moon cake(rock) Stef and I baked for Kel


Collage


Taken at Holland V's

Essential Brew

, where the 'surprise' party for her was held


We were treated to some really cool stuff at Clarke Quay,

The Pump Room

. Cant rmb the fancy names: tenderloin steak with potatoes, some fish, duck thigh with cheese, some seafood platter looking thing, seafood aglio olio, salad and desert. Managed to get pictures of dessert only because we were famished when the mains came.


interesting place with fibre lights hanging from the ceiling


yummy sweet thing one


yummy sweet thing two

Saturday, January 26, 2008 @ 12:48 AM
Oh yes how can I forget CNY! I love CNY. I'm so excited to see my cousins again. Been facebooking some of them saying: CYA for CNY! I don't know, I guess it's the excitement of gathering. More than being caught up with the festivities (besides ang bow collecting I can't think of anything else), I need to think of things to do during those three days to engage smaller cousins rather than standing around looking pretty idle, getting interrogations about being attached and letting aunties slap my butt. It's most embarrassing. Oh my gosh i just realized my 3 yr old cousin was playing Wiibowling or some tv bowling game last year and hey... since when Wii came out so early..........
sooo. what to do with small kids!!! besides taking pictures, having pillow fights and ...
I just remembered something hilarious.
(after watching Gillian chase kids around)
me: You like kids hor?
Gil: Yup
me: Are you a pedophile?
gil: What's a pedophile?
me: Someone who likes kids ALOT...
Gil: Yup I'm a pedophile!
Laine: EMILY, TELL HER THE REAL MEANING!!!
It might not have been verbatim but it really cracked me up. Don't know if i told her in the end. think I said Michael Jackson. But of cos she's FAR from that sicko. Gillian is awesome with kids, they seem to run to her like magnets. Was playing with Mere the other day. She involves me with whatever she's playing or doing rather than me playing with her actually. Oh i miss mere already, she's such a dear sweetheart! Can't wait to see her and the smallies during CNY again.
Thursday, January 24, 2008 @ 5:41 PM
I've been feeling hungry alot lately. YEARNING for food. Went to Ikea to eat again not too long ago and the food amazingly tasted better. The chickenwings were awesome. Meatballs were surprisingly wonderful too. It must be the hunger and company. A silly adapted meatball song came to me the first time I ate the meatballs. I didn't like them.
It comes with potatoes
Cream covered not cheese,
I lost my appetite
Cos meatball's Swedish.
Ikea made us think of good marketing. Even students and adults who don't buy furniture go there to eat, jalan jalan and buy useless things.
Some students in school have been publicizing Vday goods for V-day now, before they start peddling them. Flowers, chocs, bears etc. They did that during marketing lectures. Guess lit lectures have too little people. Stef gave me a box of Cadbury chocolates ytd! oooh so happy. I'll get to eat brownie, muffins, cupcakes and other delicious stuff pretty soon.
Wednesday, January 23, 2008 @ 12:15 AM
...something mortifying happened yesterday and then my dignity fell asunder. I don't know how to describe it without sucking in composing breaths over each little pieces of mortified me. but I shall try. I shall just jump right in. it's terrible the way i've been feeling about things lately, how terribly these OCD inclinations/agitations/evasions seem to be over the most trivial/GORMY matters... they appear mortifyingly funny. like a biuge mortified joke. but life is hardly a joke. it's 'grim', 'full of mortis' but hardly a joke. even when I can pun on rigor mortis. It would describe absolutely what I'm feeling right now. dead stiff. because we don't take jokes seriously and life is to be taken seriously. I really mean this, not trying to be daft, esp about life. I pray to be serious about the right things that calls for propriety and sensibilities- It's no wonder they get all gorm-y (i.e silly in the head when they don't take life seriously. alcoholics and druggies writing in stupor while they're on their way to die in the most mortified and confused manners). Perhaps then we ought to divide life into pieces bite sized cheese cake strawberry maybe it's hayberry or some sort of giddy berries that give those dizzying effects. told to chew nice and slow don't choke on the little pieces of swirly berry bits. then the sensations sorta spreads and burst on your tonguebuds. like those OCD impulses. like impulses externally segmented, targeted and positioned. MORTIFYING I SAY. mortify a child in the school yard. the mortified self realizes it's just part of life. get serious about it. get seriously mortified and let it go. don't make it into a senseless discourse about cake. it doesn't go round in dizzy circles like pretty swirls on the cheese colored berry blue cake nor is it like this paragraph that continues into the beginning which starts and ends into...
Rainbows are made of sunlight and rain -Elisabeth Elliot
Thursday, January 17, 2008 @ 12:20 AM
let it go/on the side of me
"I think we've been here before. I recognize this place. I've seen the marks of confusion, wipe out a single sign of grace. And I don't want to play anymore. Not when the stakes are so high. So before we circle round once more. I'm gonna lay down, lay down my pride. Let it go, let it be. Don't waste all your emotion on this tit-for-tat machine. Let it go, let it be. Let it go.

I turn on the TV and it screams out at me. Nothing seems to have changed since the start of Adam and Eve. So we're waiting for the sky to fall and we're buying brand new toys. But before we circle round once more, can we lay down, just lay down this pride."

"I'm not the easiest person to love. I'm often the one who lets things go unresolved. Yet you choose to be on the side of me. I'm not too proud of some things. I've done in my life. The skeletons in my closet. Are too big for me to hide. Yet you choose to be on the side of me. Blessed Charity, You're on the side of me.

Everyone needs a friend to hold when it's cold outside and there's no place to go. Everyone needs a friend to hold all alone I cried there was no place to go. I remember when nobody cared but you."


Thursday, January 10, 2008 @ 10:12 PM
MLY Accessories
will be on consignment
at the SMU WEEKENDS Bazaar!

Thanks to the help of lovely friends from Anthology.sg, Jeannette and Serene :)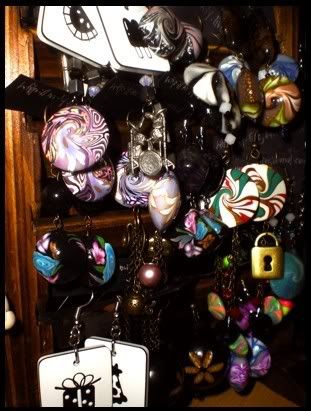 MLY's avant-garde and bohemian pieces are notable for their idiosyncrasies in both style and material. Colourful chunky trinkets range from sweet to spunky to posh. Signature polymer claybeads from popular clay artists are used in almost all creations. Their defining qualities definitely bring quirkyness to the individual!

Limited creations and creations previously up on sale will be at the WEEKENDS bazaar! Above are a mishmash of some of the available items!


Date: 11th-13th January 2008
Friday, Saturday and Sunday

Time: from 12pm to 10pm

Venue: Singapore Management University SMU,
School of Economics and Social Sciences
(Near Dhoby Ghaut MRT Station, towards The Cathay)
Wednesday, January 09, 2008 @ 10:21 AM
It has been a week since I went on the Proj Serve Adventure Camp! A week since I biked 16km, trekked 25km, did all kinds of exercises that my body usually isn't used to. Thought I was going to be a wreck in the aftermath and I normally am, but I'm glad and proud to say that God has healed me fast! I didn't feel nauseous and no more aches! Woohooo praise God!
Monday, January 07, 2008 @ 9:06 PM
@ 12:31 AM
Cartoon by Dave Walker. Find more cartoons you can freely re-use on your blog at We Blog Cartoons.
Saturday, January 05, 2008 @ 6:10 PM
In a quiet heartening way the awareness of reaching my 21st year came about while huddling on Camp Christine's bunk beds :) The midst of happy twitter over seniority, futures and chickennutbread.
Friday, December 28, 2007 @ 10:02 PM
to X or not to X
Some people were busy correcting others because they typed "Merry Xmas" instead of "Merry Christmas". I've been corrected maybe 10 times just this Christmas.
CHRISTmas means Christ Has Come. So the use of "X" to take Christ's place is like crossing out Christ in Christmas or X represents an unknown when it's obviously known. So yes, so many have been exasperatedly telling me this, I'm thankful I didn't spam people "Merry Xmas" or I would have been cross examined and grilled why I took Christ away.
I remember hearing from someone that X far from crossing out Christ actually brings attention to Christ focusing on the Cross (X) and therefore what Christ did on the Cross. I guess Easter has to be linked to Christmas or else Christ coming would have been pointless.
My friend questioned why the cross is slanted, some cult ah he said. I replied that it's Jesus dragging the Cross to Calvary. I was quite desperate to show that X is just a symbol and it could mean anything.
Anyhow, those were attempts to explain myself whilst not fully aware that people are sensitive to words. Words are powerful. If a word is not helpful, i.e has bad connotations, I don't think new interpretations of X can change much.
Ultimately among Christians it does not matter what X stands for because we all recognise that the day celebrates Christ's coming!
Here are some lyrics to the song
Hope Has Come
, a song which seriously gave my memory a hard time. It's a cool upbeat song..a new introduction to our usual medley of carols this Christmas. It was a joyful yet humbling reminder for me why Christ came!
Let us sing with the angel voices, Let us join their happy song
All of heaven and earth rejoices, for the Lamb of God has come
He has come to rescue sinners, come to meet our desperate need
He was born to bring forgiveness, born for Calvary!

Let us lay our gifts before Him, let us magnify His name
With our thankful hearts adore Him, for the Lord has come to save
He has come to break sin's power, He has come to set us free
Hope was born that glorious hour, Christ the mighty King!

Hallelujah Hope was come!
Hallelujah Christ has come!
We once were slaves in misery till You appeared and set us free!
Hallelujah Christ has come!
Tuesday, December 25, 2007 @ 7:03 PM
THANK GOD FOR FOOD.
Good food is awesome and my appetite is getting better! Had some really late night suppers, Birthday and Christmas food the past few days.
Today I had
Mcdonalds' big breakfast
and finished it. The
Sausage, Omelette and Hashbrown
never tasted better.
Yesterday at
Junior's potluck Xmas Party
, there were
Ikea Meatballs, Aglio Olio, Tea leaf eggs, Fried rice, Ham, Hotdogs and Pineapple, Salad, Tomato and Chicken Soup, Munchy Donuts, Strawberry Cheesecake, Brownies with Choc toppings, Peanutbutter Cookies and Swenson's Ice cream Logcake
!
On 23rd, went to watch Kelly and Wild Empire. Got to eat
MOS Burger
for supper, didn't get to eat the hotdogs though, not enough dogs to kill. Then had bits of
Oyster omelette and fried Carrotcake
much later.
22nd was Yiwen's Birthday! She celebrated it at
Blooie's
. The food was shiok, they had this
Marinated Dory fish
with tar tar sauce that wasn't fishy! And
mini bite-sized Potatoes, Meatballs, Chicken fillets, Beef patties for Hamburgers, Doritos with salsa sauce
, TURKEY and my fav
Tomatoes in salad
. Oh Yiwen's birthday
Blueberry Cheesecake
was rich and yummy too.
On the 20th, got to eat
Swenson's Cookies and Cream icecream Log
that made me phlegmy on stage. Had a nice lunch too. Then ate a late night supper after FM Change at
Bali House
. Kindly paid by Jy.
Seafood platter
with
Prawns, Calamari, Sambal stingray, Mixed grill with chicken, mutton and beef, Shrimp money bags, and Chicken wings
!
and there'll be more food at Roy and Ailin's place tomorrow!
CAN YOU IMAGINE HOW PIGGEDDY IM FEELING AFTER THE PAST WK
Friday, December 14, 2007 @ 6:58 PM
Ho hum
Today, I made 5 pairs of earrings, read a friend type BORED 8 times, with variations like 'sian' and adjs like 'lazy'... I would rather be bored any day than being stressed from so many things. That's if I've a choice but I don't usually and if doing many things doesn't produce stress, I always gladly oblige; continued watching Stairway To Heaven, made me so sad I don't think I like it very much; read abit; scrabbled; registered for modules at 9.30a.m oh and the highly sort after prof had been so kind to give a space for me for a highly sort after class. Am quite delighted.
Some of my stuff below have gone on consignment with raymond. Please drop by my site
HERE
if you would like to do last minute xmas shopping! I've got another set of the triplet earrings going at the price of a pair, more lego (tiny ones this time) and more pretty claybeads!
Wednesday, December 12, 2007 @ 1:13 AM
Xmas is round the corner! I like Xmas. I made a list during exams, of some arbitrary words I think of when I think "XMAS" and other general words that came to mind.
After staring at them for awhile, to my horror I saw that I have succumbed to the romanticized notion of happy things! How sappy, how cliched, how unrealistic...read too much enidblyton, watched too much marypoppins and soundofmusic while growing up...
But despite how the skeptical side of my brain scoffs...they make me think of
Heaven
! I sure do hope that heaven has these.
babies wildflowers confetti
wintrylandscapes fireplace lovedcompany
dew love mistletoe barefeet hugs milk&cheese
stuffedturkey merrylittleXmas OlittletownofBethlehem
ponies enchantedforests eiderdown runningchildren
slowafternoons skyhues goldsilver
eveningdrizzles poppies rootbeer marshmallow
goats valleymeadows snowcappedpeaks
warmsand shoreline softmoonlight
smiles quietreading laughter pillows
cottagehouses ivy windingpaths
gales windmills creakygates farwawaymusic
stonecobbledroad quaintantiques bells
sunshine holyspirit rain
Monday, December 03, 2007 @ 12:01 AM
Opera is when a guy gets stabbed in the back and instead of bleeding, he sings.
Sunday, December 02, 2007 @ 6:58 PM
No use hiding cos Rachel and I found out that..


some girl with alot of money
went to watch Enchanted with both of us hahaha


Rachel's back for Xmas!!!


Back to drumming
Thursday, November 29, 2007 @ 8:24 PM
It has been a while since we all met up. Shannon and I finished exams yesterday Yay. And we went to happy at Amos' place today with John. Recorded
The Randy Song
with many takes and decided to save time by skyping it LIVE over to him at the office!